LOOKING FOR A MOBILE LASER TAG PARTY RENTAL IN SC OR MOBILE LASER TAG IN NC? LOOK NO FURTHER SOLDIER! WE DO ALL TYPES OF BATTLES AND EVENTS AND WE CAN BRING THE LASER TAG BATTLEFIELD TO YOU!

BOOKING NOW FOR FALL AND WINTER EVENTS!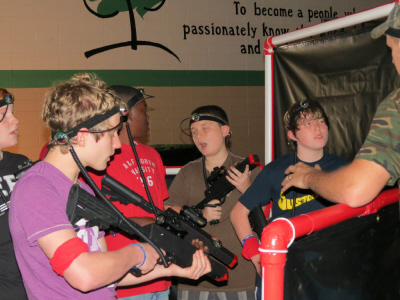 CLICK HERE FOR PRICE AND AVAILABILITY
OR
CALL/EMAIL TODAY TO BOOK AN EVENT:
864-812-0411 OR 864-489-4182 CAROLINALASERTAG@YAHOO.COM


CAROLINA LASER TAG OFFERS EXTREME TACTICAL LASER TAG PLAYED JUST LIKE THE POPULAR VIDEO GAME "CALL OF DUTY." WE SPECIALIZE IN TEAM BUILDING AND FUN IN BATTLE AT COLLEGE EVENTS, CORPORATE EVENTS, BIRTHDAY PARTIES, CHURCH GROUP EVENTS, SCHOOL EVENTS AND ANYTHING ELSE THAT YOU CAN THINK OF.

THE BEST PART ABOUT OUR MOBILE LASER TAG SYSTEM IS THAT IT IS VERY AFFORDABLE,CAN BE SETUP INDOORS OR OUT, THERE IS NO MESS TO CLEAN, NO CO2 TO REFILL, NO EXPENSIVE PAINTBALLS TO BUY, NO MASKS TO WEAR, AND NO BRUISES TO DEAL WITH FROM PAINTBALLS AND THE RANGE ON OUR GUNS ARE 3 TIMES THAT OF PAINTBALL GUNS. THERE ARE ALSO NO SWEATY LASER TAG VESTS LIKE THE OLD LASER TAG SYSTEMS, AND NO UNREALISTIC SPACE GUNS THAT PLAYERS HAVE TO USE. WE USE MILITARY REPLICA GUNS AND COOL NEW HEAD SENSORS LIKE YOU SEE BELOW.






ABOVE IS THE ACTUAL GUN YOU WILL BE ISSUED FROM OUR MOBILE ARMORY. IT HAS A FULLY COLLAPSIBLE STOCK FROM A REAL M-16 AND A FULLY FUNCTIONAL RED DOT SIGHT ON TOP OF THE GUN. THESE GUNS CAN SHOOT UP TO 600 FT. AND EVEN THOUGH IT IS CALLED LASER TAG, THE GUNS ACTUALLY DO NOT USE A LASER, THEY USE THE SAME TECHNOLOGY AS A TV REMOTE, SO THAT MAKES OUR GUNS EVEN SAFER!




THE ABOVE PICTURE IS WHAT COMES WITH ALL OF OUR MOBILE LASER TAG PACKAGES NOW. ALL OF THE PVC BUNKERS AND INFLATABLE BUNKERS WILL BE SET UP INSIDE OR OUT, IN THE DAY TIME OR NIGHT AT YOUR LOCATION.

QUESTIONS? TRY OR FAQ PAGE OR CALL US AT:
864-812-0411 OR 864-489-4182

CAROLINA LASER TAG WILL NEVER LEAVE YOU IN BATTLE WITHOUT AT LEAST ONE OF OUR TRAINED SPECIAL FORCES STAFF TO ASSIST WITH THE GAMES AND REFEREE AT ALL TIMES.
TO SEE THE AWESOME GAMES WE CAN PLAY WITH OUR SYSTEM CLICK HERE.

CLICK ON THE PAGE LINKS TO THE LEFT TO SEE ALL OF OUR PACKAGES FOR DIFFERENT TYPES OF EVENTS!